OK, enough of hope. If you're looking for a dance/theater/design performance that reflects the extreme anxiety of our lives right now, tune in to Donald Byrd's new Lyric Suite. It's not lyrical at all—unless you think fever dreams that plunge you into the darkest paranoia are lyrical. This series of twelve solos, performed by the twelve dancers of Spectrum Dance Theater, depicts the claustrophobia of confinement, the terror of police brutality, and the fear of an invisible menace. Other issues like homelessness, availability of PPE, news overload, and toxic wildfires are hinted at. Alban Berg's music of the same title attenuates the strains of string instruments to make us feel like we're ready to snap. (Additional sound is by Emmanuel Witzthum and Rob Witmer.)
All the episodes come out of the active imagination of Donald Byrd, Spectrum's artistic director; they arrive to the screen by way of cinematographer Egan Rory Kolb, who also produced the haunting special effects. Not every choreographer is willing to put their most harrowing thoughts into their work. But Byrd is not interested in wrapping his packages up with an optimistic bow. Instead, he and Kolb use movement, objects and the mercurial nature of dreams to delve into the current American psyche.
Of the twelve episodes, I'll describe three.
Akoiya Harris is hugging a tree, whispering her thankfulness to its bark. Off in the distance a pesky mirage of black wisps advances closer, emitting a shrill chirping sound. Harris climbs up the tree higher and higher as she's chased by this scampering phantom virus. Though she lifts off the tree in a skyward escape, it does not end well.
Michele Dooley, wearing a sleek black suit and high heels, dances around a box in a free-floating, borderless room. On the box is a tally of how many days have passed—could be the number of days of sheltering at home or could be solitary confinement. She eventually crawls inside the box even though it's much too small for her.
Perhaps the most frightening nightmare is when Mikhail Calliste dances, slow and sinuous, in view of a looming silhouette of a towering policeman in riot gear. The cop suddenly multiplies and his many boots hover over Mikhail, who is now face down on the floor. A sickening thud is heard as one boot stomps on the dancer's face. In a rare lucid-dreaming moment, Calliste grabs the boot, now detached from the cop, and pounds it while he laughs.
The Spectrum dancers bite into these fantasies without flinching, and the camera work is stunning.  If you have the fortitude to face these fears while seeing a wild imagination at work, you can purchase a three-day pass (part of the company's digital fall season) at this ticket link to view this weekend's encore of Lyric Suite, November 20–22.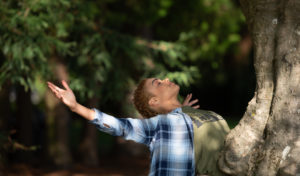 Featured
Leave a comment