A flurry of new books arrived on my doorstep (so to speak), just in time for the gift-giving season. I've made a list of the ones that you might find especially engaging. I have not had the time to read them all the way through, but have dipped into each one, sometimes just enough to cull a key quote. The list includes memoirs or musings that I find illuminating and edifying. It does not include uber scholarly books, textbooks, or manuals on technique. Most of these books can be bought on Amazon, but it's more PC to buy directly from the publisher or distributor, so I've inserted links. Enjoy.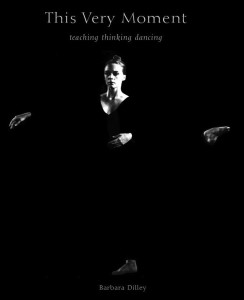 This Very Moment: teaching thinking dancing
By Barbara Dilley
Published by Naropa University Press
Available through Contact Editions
The radiance of Barbara Dilley, as both a dance artist and spiritual force comes off every page. She danced with Merce Cunningham, was a sweet, mischievous presence in the legendary improvisation group Grand Union, and went on to teach at Buddhist-centered Naropa University, where she started a dance program and eventually led the institution. Each chapter combines memoir and practice.
Quote (about performing with the Grand Union): "Intuition becomes a survival skill. It takes me forward through the unknown. I find companionship. In this environment an imagistic world explodes. I become part of stories bursting forth like Surrealist images."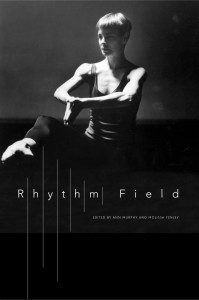 Rhythm Field: The Dance of Molissa Fenley
Edited by Ann Murphy and Molissa Fenley
Published by Seagull Books London Ltd
Fenley's exotically torquing movement vocabulary and exhilarating momentum marked her as a new, exciting dance artist in the 1980s. She continues to choreograph today. This slim volume has contributions from Elizabeth Streb, Philip Glass, Richard Move, Tere O'Connor and others.
Quote: "She appeared as if the movement was bursting out from her body without her permission, just streaming out, before the idea of streaming was coined for the Internet."  —Elizabeth Streb, on working with Fenley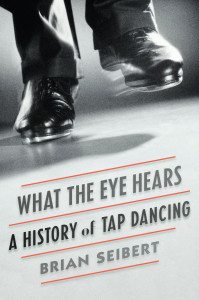 What the Eye Hears: A History of Tap Dancing
By Brian Seibert
Published by Farrar, Straus and Giroux (Macmillan) 
This author has a witty, appealing writing style that you can see in his reviews for The New York Times. The book is chock full of stories, loving descriptions, and accounts of shifting aesthetics since the inception of tap. Here's what Elizabeth Kendall said in her New York Times review: "It…offers passion about its subject, deft evocations of dance action and a narrative mischief suited to tap's trickster mentality."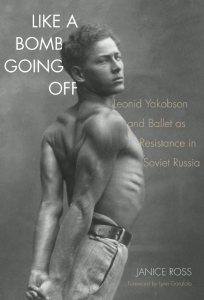 Like a Bomb Going Off: Leonid Yakobson and Ballet as Resistance in Soviet Russia
By Janice Ross
Published by Yale University Press
An unabashed provocateur, Leonid Yacobson (1904–1975) was one of the leading choreographers of Russia for decades. He was a favorite of both Plisetskaya and Baryshnikov, but his work was considered too sexy (close embraces were called pornographic), too modernist, or too Western for the Soviet authorities. That he survived the Stalin purges was amazing. In the '70s he created many inventive works for his company, Choreographic Miniatures, but the troupe was forbidden to tour. The Soviet strikes against him were constant, and Ross highlights his heroism in standing against the totalitarian regime. A must-read for anyone interested in the development of Soviet ballet.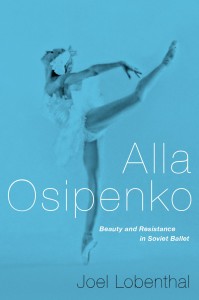 Alla Osipenko: Beauty and Resistance in Soviet Ballet
By Joel Lobenthal
Published by Oxford University Press
Another book about the resistance of a ballet artist in the Soviet Union. Alla Osipenko, with her beautiful lines and rebel spirit, left her job as one of the top ballerinas of the Kirov (Mariinsky) Ballet to dance with renegade choreographer Leonid Yacobson (see Janice Ross' book, above) and later Boris Eifman. Along the way are descriptions of the young Baryshnikov, the great pedagogue Vaganova, and Nureyev. In fact, the description of  Nureyev's defection in Paris, right after performing with Osipenko and the Kirov, is one of the most harrowing passages.
Saving Radio City Music Hall: A Dancer's True Story
By Rosemary Novellino-Mearns
Published by Turning Point Press
As dance captain of the Radio City Music Hall Ballet Company (yes, for many years there was a ballet company that performed as often as the Rockettes—four times a day), Rosemary Novellino-Mearns loved the stage, the theater, and its mission to entertain. But in the late 1970s, the choice of movies went downhill, audience numbers started falling off, and Radio City was slated for demolition. Alarmed, "Rosie" gathered some dancer friends together to protest what seemed like mismanagement. It turned into a long battle that cost her and her husband their jobs. She didn't realize she was a David to the Goliath of the Rockefellers, who had planned to doom the theater in order to build something more profitable. Click here to see a review and vintage videos of the fight to keep "the showplace of the nation" open.
Dancers As Diplomats: American Choreography in Cultural Exchange
By Clare Croft
Published by Oxford University Press
Interviews with dancers who served as ambassadors for the U.S. while touring internationally during the Cold War and after.
Rebel on Pointe: A Memoir of Ballet & Broadway
By Lee Wilson
Published by University Press of Florida
When Lee Wilson saw the Slavenska-Franklin Ballet in the 1950s, it sparked a passion to dance. She studied at Ballet Theatre School with Madame Pereyaslavic and danced with the companies of Rosella Hightower, Eric Bruhn, Rudolf Nureyev, Maina Gielgud, and with Alicia Markova at the Metropolitan Opera Ballet.
Quote: "I sensed that ballet, like church, could be a transcendent experience. As the lights dimmed, instead of one solitary organ, an entire orchestra began to play. When the curtain rose, the dancers leaped onto the stage, which was far more exciting than the predictable slow march of a clergy and choir."
Lois Greenfield: Moving Still
Photographs by Lois Greenfield; text by William A. Ewing
Published by Chronicle Books
(In Europe, Thames & Hudson)
From a master photographer, a book of spectacular images that see the dancing body through the lens of Greenfield's imagination. Reflecting surfaces, yards of silk, and other objects extend the performers in beguiling ways.
Quote: "Rather than capturing peak moments of a dance… Greenfield instead seeks unusual, enigmatic moments that perturb our reading of the image. We find ourselves wondering: Can a body really be doing what I think it's doing? Where did he come from? Where is he going? Is she rising? Is she falling? Are those bodies about to collide, or are they flying apart?"
Girl Through Glass
A novel by Sari Wilson
Published by HarperCollins
A former dance student of both ballet and experimental dance, Wilson has set her novel in 1970s NYC. The two main women characters are a ballet dancer and a dance history professor.
Quote: "The mirror lies. We know this. Its secret smiles are the images that match our own dreams. But it persists, categorical and seductive. How often have I learned this? Still, the desire to trust the image persists."
Isadora Duncan in the 21st Century: Capturing the Art and Spirit of the Dancer's Legacy
By Andrea Mantell Seidel
Published by McFarland
Written by a dancer who has reconstructed and performed Isadora's choreography, this book has chapters with titles like "Dancing Innocence and Awakening," "Apollonian Form, Beauty and the Natural Body," and "Women Warriors." A serious study of the influential Duncan oeuvre, the book discusses training, aesthetics, religious aspects, and the actual experience of dancing these historic dances.
FOR CHILDREN

Rupert Can Dance
By Jules Feiffer
Published by Farrar, Straus and Giroux (Macmillan)
The unstoppable cartoonist who famously lampooned a fictitious serious-&-silly modern dancer, has now come out with a story about a girl and her cat who get the dance bug. See a video of Feiffer talking about his new venture here.
My Story, My Dance: Robert Battle's Journey to Alvin Ailey
By Lesa Cline-Ransome
Foreword by Robert Battle
Published by Simon & Schuster
As a child, Robert Battle had to wear leg braces to stabilize bad alignment. But he fell in love with dance, attended Juilliard, performed and choreographed professionally, and is now the inspired artistic director of the Alvin Ailey American Dance Theater.
BOOKS BY DANCERS, NOT ABOUT DANCE
The last books are not about dance, but if you love these two dance artists—Kenneth King and Dana Caspersen—you may want to read them.
The Secret Invention and Red Fog
Both by Kenneth King
Both published by Club Lighthouse Publishing
Kenneth King, a choreographer/improvisor who enjoyed a special niche as "the dancing philosopher" of the experimental dance world, came out with two novels this year. He endows his characters with a richness of marginality—and usually a healthy dose of gender bending. The Secret Invention involves twins—a poet and an inventor—who get caught up in the swirl of New York nightlife. The plot involves an invention that makes clean energy freely accessible but the CIA claims it threatens our democracy. Science fiction with a sprinkling of sexual encounters. In Red Fog, one character is based on Frances Alenikoff, who danced wonderfully sensual duets with King when she was in her 80s. The topics of the characters' conversations range from Wittgenstein to sex to crime to nutrition.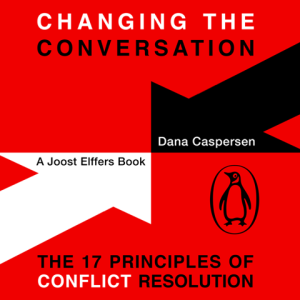 Changing the Conversation: The 17 Principles of Conflict Resolution
By Dana Caspersen
Published by Penguin Random House, A Joost Elffers book
Dana Caspersen, whose dazzling technique and acting skills distinguished her in William Forsythe's work for decades, has added mediator to her resumé. Her book presents short bits of advice emphasizing ways to calm things down, possibly learned in a rehearsal studio. Here are two examples: "Develop curiosity in difficult situations," and "Acknowledge emotions. See them as signals." Listening is paramount, and Caspersen's principles build on all the ways that dancers listen.
RE-ISSUED
Some of my favorite books have been re-issued in paperback or new editions. All of them have given me much pleasure and food for thought.
Balanchine and the Lost Muse: Revolution and the Making of a Choreographer
By Elizabeth Kendall
Oxford University Press
Dancing Through It: My Journey in the Ballet
By Jenifer Ringer
Penguin Random House
Life in Motion: An Unlikely Ballerina
By Misty Copeland
A Touchstone Book, Simon & Schuster
Hiking the Horizontal: Field Notes From a Choreographer
By Liz Lerman
Wesleyan University Press
The Choreographic Mind: Autobodygraphical Writings
By Susan Rethorst
Now available from Contact Editions (which, by the way, is currently offering signed copies of my book here)
Night's Dancer: The Life of Janet Collins
By Yaël Tamar Lewin
Wesleyan University Press
Dance to the Piper
By Agnes de Mille (1951), with a new introduction by Joan Acocella
Published by New York Review Books
OTHER SOURCES FOR DANCE BOOKS
Dance Horizons, Princeton Book Company
Human Kinetics
Featured
Uncategorized
3