Although I cut down a bit on my dance addiction this year, I still saw many terrific performances—and a few clunkers. I tried to stick to world premieres or company premieres but other things snuck into this list.
BEST CHOREOGRAPHY (in order of how strongly it hit me)
• Polaris, by Crystal Pite with 6 Kidd Pivot dancers and 60 NYU Tisch Dance students. Massive. Inventive. Shocking in its brutal beauty, masterful in its craft, it was part of "Thomas Adès: Concentric Paths—Movements in Music," commissioned by Sadler's Wells in 2014, brought to NYC by Lincoln Center's White Light Festival in coordination with NY City Center.
• Andrea Miller's Whale at the Joyce with her company Gallim. Almost unbearable cravings alternating with giddy flesh contact. Howling, dragging, hurtling through the air. A celebration of awkwardness. Yes, Miller is obviously influenced by Ohad Naharin, but she's got her own unstoppable zing.
• Birdgang Dance Company, an urban dance group from the U.K. in its U.S. debut, at the Breakin Convention at the Apollo (produced by Sadler's Wells). Dancer/choreographer/actor Ukweli Roach created and starred in Vice, a searing depiction of addiction. The power and precision blew me away.
• Kim Brandstrup's Jeux, for New York City Ballet, takes you from a cocktail party to film-noir creepiness. Haunting use of Debussy's music and Jean Kalman's eclipse-like lights.
• Michelle Dorrance on two occasions: First, The Blues Project, with Toshi Reagon and BIGLovely at the Joyce in April, with fellow tap stars Derick K. Grant and Dormeshia Sumbry-Edwards. Delving into what the blues means individually, culturally and musically. And then, only months later, Myelination, a commission from Fall for Dance. Knockout rhythm and shape, spiced with weird and wonderful (partly improvised) solos and poignant duets. Dorrance has taken tap from being just "numbers" to being real choreography.
• Another choreographer who impressed me twice was Alexander Ekman. His cheeky, large-cast Tulle, mounted on the Joffrey Ballet, placed tutu-wearing dancers in everyday situations to hilarious effect, at the Auditorium Theatre in Chicago. In Moscow at the Benois de la danse, he dashed around the vast Bolshoi stage, charming the crowd with his witty words (translated into Russion on tape) and actions in Thoughts at the Bolshoi. Irreverent and reverent at the same time, this Swedish choreographer has the ability to see things from a fresh angle.
• David Neumann's Noh-influenced dance/play I Understand Everything Better, at Abrons Arts. To see Neumann play the role of a delirious older man is to see him become more vulnerable as well as philosophical. Influenced by his work with Big Dance Theater, he created a dreamlike environment in which objects have their own choreography.
• Louise Lecavalier's keenly focused So Blue, at New York Live Arts. Her famous fearlessness from the 1980s (when she was the star of La La La Human Steps) found a counterpart in her uncanny momentum as an older performer—one who happens to look like David Bowie. A beautifully shaped (mostly) solo concert, depending only on her singularity as a mover.
• Time It Was/116, an utterly delightful encounter between the scintillating New York City Ballet ballerina Tiler Peck and master clown Bill Irwin (who also happens to be one of New York's greatest dancers). The performers co-choreographed this brilliant romp with Damian Woetzel, who commissioned it for Vail Dance Festival; the NY premiere was at Fall for Dance.
• Justin Peck's Rodeo: Four Dance Episodes, for NYCB. The kinetic thrill of people running at top speed across the expanse of the stage of David Koch Theater matched Peck's brazenness at appropriating Aaron Copland's famous music for Agnes de Mille's famous ballet. In section after section, Peck's inventiveness tumbled forth, with the merest hint of the original source.
• Dream'd in a Dream by Seán Curran Company at Brooklyn Academy of Music. A beautiful reimagining of Central Asia carried on the currents of the Ustatshakirt Plus, a traditional Kyrgyz music ensemble. Gently transporting, veering away from folk dances and folk tunes in a good-natured glow of camaraderie. No aggression to show or prove anything, just an immersion in a faraway world.
• William Forsythe's Duo2015 is an exhilarating example of his crazy wild idea of counterpoint. Two guys (Brigel Gjoka and Riley Watts), enthusiastically caught in a spider's web of repetition and distortion, as part of Sylvie Guillem's farewell performance at NY City Center, produced by Sadler's Wells. I'd love to see it right after the original two-women Duo of 1996.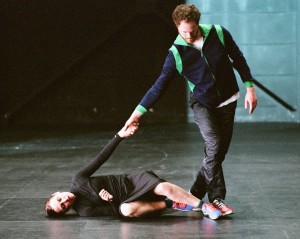 • Anne Teresa De Keersmaeker and Boris Charmatz's Partita 2 at Sadler's Wells in London. Postmodern in the best sense: dance that creates structure and relationship from nothing but movement and squeaky sneakers. Energizing.
(photo by Anne Van Aerschot)
BEST REVIVALS
• The Snow Falls in the Winter, first made by Annie-B Parson on the short-lived Other Shore company, now set on the Martha Graham Dance Company at the Joyce. Co-directed by Paul Lazar, this piece uses lines from Ionesco's absurdist play The Lesson to frame the piece. Parson and Lazar have elicited a new, ironic edge from these hard-working, virtuosic dancers.
• Rainforest performed by Stephen Petronio Company at the Joyce as the first in his "Bloodlines" series. The dancers got the quietly feral force of this 1968 gem of Merce Cunningham's. Warhol's silver pillows caused a lovely chaos onstage and in the house, where viewers either batted them back to the stage or held them down.
• The musical Spring Awakening, this time produced by Deaf West Theatre, most of whose members are hearing impaired. With American Sign Language crucial for communication, choreographer Spencer Liff found a dynamic way to express the urgency, defiance and sorrows of these young people of 19th-century Germany—and he expertly incorporated Broadway's first wheelchair performer.
LOOKING BACK—WITH GUSTO
• Dancenoise: Don't Look Back. Annie Iobst and Lucy Sexton brought back their wacky, anarchic duo with the full complement of fake blood and real nudity, dildoes and cowboy hats, now with the added "relevance" of appearing in a museum (the new Whitney building). We guffawed in mock shock, and tapped into that old feeling of madcap liberation.
• "get dancing," a tribute to Andy De Groat organized by Catherine Galasso at Danspace (an earlier version at Fridays at Noon), revealing the richness and spirituality of "minimalist" dance of the 70s to a younger generation. Plus, it was heavenly to hear Michael Galasso's music again.
• ABT's 75th -anniversary gala, with glimpses from 23 ballets including Billy the Kid, Fancy Free, Push Comes to Shove, Rodeo and The Bright Stream. Spectacular dancing from Herman Cornejo, Marcelo Gomes, Maria Kochetkova, Xiomara Reyes, Daniil Simkin, Diana Vishneva, James Whiteside and others. We felt the weight and glory of ABT's trajectory.
• Event, directed by Robert Swinston, former associate director of Cunningham's company and current director of Compagnie CNDC (Le Centre National de Danse Contemporaine) in Angers, France. Presented at the Joyce with an intriguing set of flowy strips of art by French artist Jackie Matisse (yes—the granddaughter of Henri). Swinston was inspired in his choice of excerpts of Cunningham works from 1965 to 1990, and the French group danced it with verve, at the Joyce.
MIXING IT UP
• "Platform: Dancers, Buildings, People in the Streets," dreamed up by Claudia La Rocco, at Danspace. A multi-week series that threw together ballet and postmodern, Balanchine and Judson Dance Theater, through the lens of legendary dance writer and poet Edwin Denby. Much food for thought.
• "The Hidden Erotic Body of Soviet Ballet: A Tribute to Leonid Yacobson" combined a talk with Yacobson scholar Janice Ross (see my book list here) with reconstructions of Russia's radical choreographer who is little known in the West. His entwining Rodin duets were sensual and seamless and triggered debate. Fridays at Noon at the 92nd Street Y, Harkness Dance Center.
• Also at Danspace: National treasure Meredith Monk, whose music and dancing light up the soul, teamed up with poetry goddess Anne Waldman. From gutsy rhythms of suffering to giddy ghosts to transcendent vocals, they made us feel lucky to live in their times.
BEST PERFORMERS (roughly in the order I saw them)
• Xiaochuan Xie of the Graham company in The Snow Falls in the Winter, also as Eliza in The King and I at Lincoln Center. A piquant sort of vibrancy.
• Lloyd Knight in the Graham company: Physical strength, dramatic impact, and a sense of the human being underneath the dancer.
• Megumi Eda in On the Nature of Things by Karole Armitage at the Museum of Natural History. With her crystalline quality she embodies the sacredness of the music by Arvo Pärt, Philip Glass and others.
• Davalois Fearon in Stephen Petronio's  Locomotor/NonLocomotor, mainly the second half when she engaged in brash, tough-love partnering with three guys, at the Joyce. A woman warrior in a bright turquoise leotard.
• Ballet West's gemlike Arolyn Williams in Presto by Nicolo Fonte, at the Joyce.
• Natalia Osipova in Ashton's The Dream, The Royal Ballet, at Lincoln Center, presented by the Joyce. Star wattage both before and after she fell on her behind.
• At the Benois de la danse, Moscow: The Mariinsky's Uliana Lopatkina, transcendent in Dying Swan and dreamy yet precise in Trois Gnossiennes by Hans Van Manen.
• Alessandra Ferri in Wayne McGregor's Woolf Works for The Royal Ballet, playing the roles of an author and her protagonist with dramatic focus, making you care what's going on in her character's mind. Royal Opera House, London.
• During the Mariinsky Ballet's season at BAM, outstanding performances were given by Vishneva in Ratmansky's Cinderella, Kondaurova in Robbins' In the Night, Xander Parish as Siegfried in Swan Lake, and Kristina Shapran in Without by Benjamin Millepied.
• Olsi Gjeci of Vicky Shick Dance in Pathétique, Miniatures in Detail, 92Y Harkness Dance Festival. Springs up like a cat, dances like he has a secret up his sleeve.
• Marie-Agnès Gillot in Wayne McGregor's Tree of Codes at the Park Avenue Armory. A creature-woman extending her legs like tentacles. Kinda scary but fitting what I imagine Tree of Codes to be about.
• Soledad Barrio in Antigona, a Noche Flamenca production directed by Martín Santangelo with choreography by Barrio. Her gradually building heat culminates in wrapping her anger around her while heels clatter amazing rhythms into the floor. At West Park Presbyterian Church, last summer and again now until Jan. 23.
• Okwui Okpokwasili, coolly provocative in her delivery of Kathy Acker's sometimes porno script, in Scaffold Room, a performance piece by Ralph Lemon at The Kitchen.
• Daniel Staaf of Gallim Dance in Andrea Miller's Whale. In a cast of individuals who allow themselves to be painfully exposed, he was the most extreme: desperate in expressing need, a rock in accepting those who need him. It must have been emotionally exhausting.
• Meg Weeks in Andy de Groat & Catherine Galasso's "get dancing" evening. Specifically in get wreck (1978), fan dance (1978) and notes on de groat, the new work by Catherine Galasso. Athletic freshness and buoyancy.
• Jennie Somogyi in Liebeslieder Walzer in her farewell performance with NYCB. This is how it's done: melding emotion with strength and fluidity. We'll miss you, Jennie.
• Rika Okamoto in Tharp's Preludes and Fugues: a delicious sense of style. But even better in Yowzie, where she reveled in the crazy fun of it, morphing from a drunk to a pothead to a gorilla to the Iron Lady too heavy to lift. Astonishing go-for-broke performance.
• Edivaldo Ernesto in Sasha Waltz and Guests' Continu at BAM's Next Wave Festival. Sharp, puppet-like, dense, riveting.
• Tendayi Kuumba in Walking with 'Trane, by Jawole Willa Jo Zollar and Urban Bush Women at BAM, incorporating crazy sick vocal scatting into dance improv.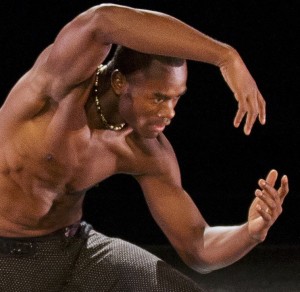 • Jamar Roberts in the Ailey company, magnificent in works by Robert Battle, Paul Taylor and Ron Brown and more. (photo of Roberts in Aszure Barton's LIFT, by Paul Kolnik)
THE YEAR OF MISTY COPELAND
She shone in works from the Graham company gala to Ivy in On the Town, from Tharp's Brahms-Haydn Variations to Swan Lake. In this last, she took her time to feel surrender and to let the anguish of Odette be expressed through her exquisite lines. She showed grace and humility in every public appearance. And she brought public attention to the dearth of female African-American ballet dancers.
A SLEW OF OTHER ABT DANCERS
Other breathtaking performances: Stella Abrera in Ashton's Cinderella, Kim Kimin as Solor in La Bayadere, Maria Kochetkova and Sarah Lane in The Brahms-Haydn Variations,  Jeffrey Cirio in AfterEffect by Marcelo Gomes, Evgenia Obraztsova as Juliet.
PERFORMERS IN MUSICALS
• Tommy Tune: long, lanky and loving in the Gershwin musical Lady Be Good, NY City Center's Encores! series
• Leanne Cope in An American in Paris. Gorgeous, breathy dancing, an open expressive face, and a voice that makes her a true triple threat.
• Alex Brightman in School of Rock: whether fidgeting, bouncing to his own music, or exploding, he's a buoyant hurricane of energy.
• Making the most of a small cast: the six players of Dames at Sea all act, tap dance, and sing terrifically. The show is as much fun as some of the bigger, flashier musicals. Choreography by Randy Skinner.
BEST TRENDS
• Great dancers continuing to perform into "advanced" age: Wendy Whelan, Eiko, Ana Laguna, Carmen de Lavallade, and, as mentioned, Louise Lecavalier and Alessandra Ferri, are deepening their artistry every year. Audiences want to see them because they know they will see not only a great performance, but maybe they will learn something about life.
• Broadway Musicals Take on the Immigrant Debate: Not only the blockbuster Hamilton, but also the dance-crazy On Your Feet and the moving Allegiance tell complicated stories of racism and resistance. Hamilton highlights how international and multi-cultural the founding of the United States was. On Your Feet tells how brazen Gloria and Emilio Estefan were to bring the Cuban beat to American pop music. And Allegiance lays bare the disgraceful treatment of Asians during World War II. Of course, Fiddler on the Roof, which premiered in 1964 and has just opened as a revival, may have been the first to dramatize the painful trek from the Old World to the New. [And a friend just reminded me, duh, of West Side Story from 1964!]
MOST DISAPPOINTING
• ABT's remake of The Sleeping Beauty with choreography by Alexei Ratmansky based on the original versions. Fascinating to ballet historians, it looked to me like everything got smaller: dancers taking up less space, being coy rather than daring, and our multi-cultural world shrinking back to the precious courts of Europe. Only the budget was large—six million dollars.
• Mark Morris' After You at ABT. Pedestrian in the most banal sense. Morris' usual wit and sense of form eluded him, not to mention his intuitive understanding of ballet line.
• The Age of Anxiety by Liam Scarlett, danced by The Royal Ballet, presented by the Joyce at Lincoln Center. Sturm and Drang overlaid on a plot that looked like Fancy Free and even had music by Leonard Bernstein. Dreadful portrayals of four supposedly typical New Yorkers, all of them belligerent.
• Passacaglia and Fugue in C Minor by Doris Humphrey, presented by Paul Taylor's American Modern Dance. A great classic of the modern dance canon, it felt lost and faraway in the Koch Theater. The Limón Dance Company performed it well, but the organ sound was thin and the narrative felt incomplete.
But let's not end on that note. Scroll back up to the things I was excited about, or click here to browse through my list of books published this year.
Featured
Leave a comment