Jodi Melnick, the tantalizing dancer who brings a sense of glamour to downtown dance, has created a new work for her first BAM performance, Oct 8–11. Titled Moment Marigold, it's a trio with Maggie Thom (read her Why I Dance) and EmmaGrace Skove-Epes, with music by Steven Reker of People Get Ready.
Though Melnick has brought her brilliance to works by Twyla Tharp, Sara Rudner, Vicky Shick, Susan Rethorst, and has collaborated with Trisha Brown, she has an aesthetic all her own. Quirky yet elegant, intense yet cool, she's the kind of performer you can't stop watching.
Moment Marigold is, according to the press release, "an exploration of the stories within our bodies." I've caught several of Melnick's moods in her own choreography, from a poignant sense of loss to an exploration of zany partnering with David Neumann.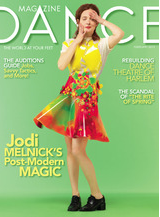 In the Dance Magazine cover story on Jodi, Gia Kourlas calls her dancing "full of delicacy, lucidity, sensuality, mystery, and ferocity." (Cover photo by Matthew Karas.)
Enough said. Click here to find out how to see her.
In NYC
what to see
Leave a comment