It's been a good year for dance history. Most of these books explore the past, deepening and broadening what we know and how we know it. Each is interesting in a different way. In cases where I didn't have much to say, I've still tried to give a sense of the scope.
This was a big year for me because my own book was published, which you will see if you get to the end of this list.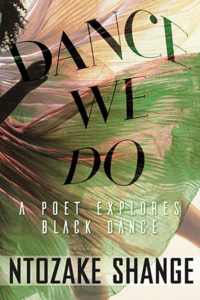 Dance We Do: A Poet Explores Black Dance
By Ntozake Shange
Foreword by Alexis Pauline Gumbs
Beacon Press
The secret life of the famous playwright Ntozake Shange (1948–2018) was her dance life. When her dance play for colored girls who have considered suicide/when the rainbow is enuf (1976) exploded on Broadway in 1976, it was gritty, witty, and playful. The characters expressed themselves through both words and dance—with the help of choreographer Dianne McIntyre. Shange coined the term choreopoem to describe her equal passions for literature and dance.
As Alexis Pauline Gumbs explains in the foreword, Shange was working on this book while she was trying to recover from two strokes and a degenerative nerve disease. She had explored Black dance, not only as an element in her own productions, but by studying and performing with Dianne McIntyre and Halifu Osumare. As McIntyre says in these pages, Shange was at home in dance class. "In my dreams I can dance," Shange wrote, even as her body was deteriorating. "Every night I fly."
When auditioning for McIntyre's Sounds in Motion in the 1970s, the young, dance-loving poet was asked to improvise for 32 counts. "I was scared to death because that was a long time. But I said, 'Well hell, I am here.' And we began. I danced my heart out." Shange landed an internship with McIntyre—and friendship for life.
Shange tells a funny story about the time when, dressed as a bag lady for a performance choreographed by Osumare, she planned to make her entrance from outside the theater. Her guise was so convincing that an usher barred her from the building and threatened to call the police.
Shange follows her curiosity by interviewing Black dance artists, including McIntyre, Osumare, Eleo Pomare, and two from the younger generation: Camille A. Brown, who choreographed the last staging of colored girls, and Davalois Fearon, a dance artist who was in Stephen Petronio's company. In these interviews, I found keys that unlock larger ideas:
Osumare: "I think that as we grow as a society, we have to become more literate in being able to read the body."
Camille A. Brown: "If I'm eating, we're all eating. If I get a door open, it's my responsibility to make it wider."
Osumare again: "Part of what I've been doing all my life is receiving ancestral messages and translating them in my art."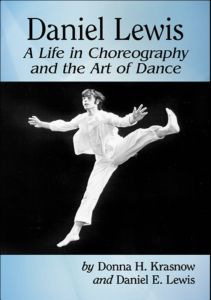 Daniel Lewis: A Life in Choreography and the Art of Dance
By Donna H. Krasnow and Daniel E. Lewis
McFarland
So much of our lives happens by chance. For Daniel Lewis, a dance artist as well as a leader in dance training, it was the War in Vietnam that pushed him toward the Juilliard School. His plan was to become a Broadway dancer, but the draft board had other ideas. One of the accompanists at the Martha Graham school told him he could get a deferment by enrolling at Juilliard. There he met José Limón, who needed a male dancer just then, in 1963. At Juilliard he was taken under the wing of Martha Hill, who groomed him as a future dance educator. She sometimes asked him to fill in for Limón. It was Hill who ultimately recommended Danny to be the dean of dance at New World School of the Arts.
One of the dance world's sunniest, most generous people, Lewis was also a performer who always revealed the humanity behind the role. A tap dancer as a child, he attended the High School of Performing Arts while also dancing in Yiddish theater. His career ride also included American Dance Festival, staging Limón works, directing his own repertory company, and finally Dean of Dance at the New World School of the Arts.
Limón's dedication and artistry obviously made an impact on Lewis. The younger dancer was thrilled to perform Iago next to Limón's Othello in The Moor's Pavane. Perhaps his hardest role was the slave owner in Limón's The Legend, about a slave uprising led by Nat Turner in 1830.
The book is chock full of entertaining stories about tours, teaching assignments, re-stagings, with side trips to Anna Sokolow, Paul Taylor, and Donald McKayle. Occasionally, with so many voices—those of Donna Krasnow, Lewis, and a slew of colleagues giving their memories—the narrative gets confusing.
Just as Lewis learned to be a leader from Martha Hill, Robert Battle learned from Lewis. As a student at New World School of the Arts, Battle, now the artistic director of the Alvin Ailey American Dance Theater, would observe Lewis as director: "Sitting in the office talking with him was like watching a circus act. Danny would be doing multiple things at once—on the phone, solving problems, and making things possible…I call Danny 'the conductor.'"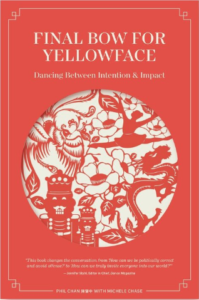 Final Bow for Yellowface: Dancing between Intention and Impact
By Phil Chan with Michele Chase
Yellow Peril Press
Black Lives Matter has been front and center, rightly so. But Asian lives matter too, and it matters how they are portrayed in the dance world. Final Bow for Yellowface is a project co-founded by Phil Chan and New York City Ballet soloist Georgina Pazcoguin, as well as the title of the book. Phil Chan exposes the demeaning stereotypes in classical ballet. Exactly why does the choreography for the Chinese dance in Nutcracker call for head-bobbing, finger-pointing and shuffling? What is the historical basis, and how can these stereotypes be changed?
Taking an activist stance, Chan met with Peter Martins, then the ballet master in chief of New York City Ballet, to suggest changes. He convinced Martins to alter certain movements, but he didn't stop there. He got 31 (and still counting) artistic directors of ballet companies around the world to sign the pledge to eliminate offensive stereotypes of Asians.
With sections titled "Caricature vs. Character" 58 or "Appropriation vs. Appreciation," Chan provides informed, rich, and nuanced discussions. He asks questions like "Being Asian in America: Do We Belong?" "Who Gets to Decide?" "Did We Do Enough?"
Chan compares old ballets to bonsai trees, saying that in order for them to survive, we "have to give them a little delicate pruning . . . Once we acknowledge this, it becomes a little easier to be less precious with how we preserve dance . . . and more willing to take risks."
Martha Graham's Cold War: The Dance of American Diplomacy
By Victoria Phillips
Oxford University Press
Martha Graham is known as an uncompromising artist, a purist who is sometimes called the Picasso of dance. It was this very individuality that was the selling point for the U. S. State Department to send her abroad. So it's a bit jarring to see her positioned as a creator of propaganda herself in the title. I find myself half-wishing the title were Martha Graham: A Pawn in the Cold War.
That said, this book thrusts the choreographer onto a larger world stage. Phillips helps us see how the idea of American originality is constructed and marketed. The vacillations of Graham's career were controlled not only by the quality of her company's performances and the response of the audience, but also by the dance panel advising the State Department on whom to send where. Along the way we learn that Eleanor Roosevelt's favoring of Graham did not hurt her, that the Israeli audience responded well to Appalachian Spring because of its "pioneering spirit," and that Graham cited the eroticism of her 1962 Phaedra to claim relevance well past her heyday.
Issues broached: Was Graham's work too esoteric? Could people in poor countries enjoy it? When touring Europe, how did her rivalry with Germany's Mary Wigman play out? How did Martha's drinking affect her performances?
The revelations of dance history abound. For one, the narrative that modern dance was born in America only emerged after World War II. Between the world wars, it was accepted that Germany (home of Laban, Wigman, Kreutzberg) was the birthplace of modern dance. It was only after Hitler destroyed the arts in German that the idea emerged, via Margaret Lloyd's 1949 Borzoi Book of Modern Dance, that modern dance originated in the U.S. with Graham. Another revelation is that it was Michio Ito, that shadowy figure who chose to be deported rather than confined to an internment camp, who introduced Graham to her most constant collaborator, the sculptor Isamu Noguchi. A third revelation is that, as opposed to the understanding that Graham broke completely from the "orientalist" aesthetics of Denishawn, her first State Department tour of the Orient went to the same countries as the famous Denishawn tour of 1925–26 and she posed in front of some of the same landmarks. She soon broke with the coy exotica of St. Denis as she explored the American experience, but that took time.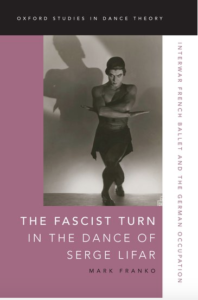 The Fascist Turn in the Dance of Serge Lifar: Interwar French Ballet and the German Occupation
By Mark Franko
Oxford University Press
Whenever the name Serge Lifar comes up, someone always says, "You know he was a Fascist, right?" Now, more than just rumor, we have the proof. Mark Franko has delved into the international archives to paint a complex picture of this mercurial dance artist who collaborated with the Nazis. The surrounding history is fascinating.
Lifar was the last favorite of Diaghilev, cultivated by him to shine as a performing and choreographing star. Cyril Beaumont described his movements as "graceful and lithe like those of a wild animal." And yet he was also seen as an exemplar of classicism. Lifar's sensibility was seen to fit "the avant-garde interwar art scene and its queer dimension." Balanchine's Apollon Musagète, with Lifar in the lead role when it premiered in 1928, was often called the dawning of neo-classicism.
Because of Lifar connection to Diaghilev's Ballets Russes, which had wowed the French elite for twenty years ending with Diaghilev's death in 1929, the French authorities pinned their hopes on Lifar to resuscitate French ballet. He represented a reversal of sorts, in that Marius Petipa had brought ballet from France to Russia in the nineteenth century, making it thrive while ballet in France languished. So the French were eager to reverse the route and invite a Russian to revitalize the French ballet scene at the expense of Russia. Lifar did in fact bring Paris Opera Ballet into the "golden years," which were also the war years.
In his voluminous writings, Lifar had espoused concepts that align with the Nazis, for instance, that pure classical ballet was fundamentally Aryan (as opposed to swing dance, which was banned). The Vichy government used the Opera (which then was producing more dance than music) as a public display of collaboration with the Nazi regime. In 1940, in the midst of World War II, Lifar personally showed Hitler around the Opera and had the lights turned on. When he was accused of being Jewish, he defended himself by disassociating himself from Jews and going further: "In my book La Danse (1937), I demonstrated that the Jewish culture is incompatible with omni-Aryan culture, that it has followed a distinctly different and destructive pathway while the omni-Aryan spirit symbolizes creation." Always the opportunist, Lifar knew when white supremacy would come in handy.
After the war, for hazy reasons, Lifar was not penalized for collaborating with the Nazis as much as other public figures in France. Different factions of Paris Opera Ballet took different sides. The dancers stuck by him, but the theater electricians, who had been part of the Resistance, refused to work with him. They devised a plan to express their displeasure: In the first performance after the war, when Lifar appeared onstage, they plunged the entire theater into darkness!
There are other fun episodes, like the time Lifar challenged Massine to a duel in Central Park. (Massine declined.)
But this is the part that changed history: The general director of the Paris Opera, Jacques Rouché, had planned to replace Lifar with Balanchine, who was at the time freelancing in movies and musicals in the U.S. But at the last minute, Rouché bowed to pressure and rehired Lifar. This was right before New York City Center offered to make Balanchine and Kirstein's fledgling group a resident company, thus giving birth to New York City Ballet in 1948. It's unreal to think how close we came to not having NYCB!
Corner
Douglas Dunn, Gibson + Recoder
Photographs by Paula Court, text by Douglas Dunn and Brice Brown, film stills by Gibson + Recoder, Design by Grenfell Press and
MAB Books
Douglas Dunn is an existential figure in post-modern dance. During 46 years of making dances, he has produced events wayyy outside the box. With photographs by Paula Court, this book documents Corner (1972), in which Dunn, dressed in black, creates shapes with a crisp outline against a freestanding white-walled corner. The individual as loner, as object, as part of the architecture, as a visitor from another planet.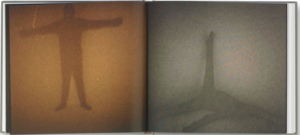 But that's only half the book. The other half, if you turn the book over and start from the flip side, shows images of these same positions, now burnished bronze, obliterating the contrast of the original photos. Like a ghost crawling among the pages, the hazy figures disperse into the grainy background. This haunting effect, taking minimalism into a dream world, is accomplished by visual artists Sandra Gibson and Luis Recoder.
Included also is an essay by Dunn about the time he made Corner. His prose, like his dancing, is eloquent yet at times blunt. He aims "to emphasize the artificiality of delivering the body as art." The surprise is that the further artificiality of the visual treatment brings these images into primal, almost animalistic territory.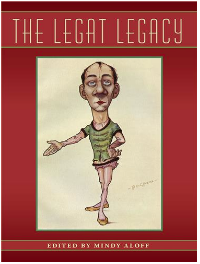 The Legat Legacy
Ed. Mindy Aloff
Introduction by Robert Greskovic
Illustrations: Caricatures by Nicolas Legat
University Press of Florida
Master teacher and choreographer Nicolas Legat (1869–1937) was the link between Petipa and many of the Russians whose names we know; Pavlova, Fokine, Massine, Nijinsky, and Balanchine had all been his students. This book, which comprises Legat's memoirs; testimonials from dancers like André Eglevsky, Alexandra Danilova, and Alicia Markova; and detailed lesson plans, brings the early twentieth-century Russian ballet alive for us.
Petipa is a giant in our eyes, but in Legat's eyes, Christian Johanssen, was equally huge. Legat regarded these two men as deities. His writings show us that Russian ballet was an international blend, with influences from the French Petipa, the Swedish Johanssen (a disciple of Bournonville), and the Italian Cecchetti, who excelled in training for multiple pirouettes.
It was from Johanssen that Legat learned to be an exacting, demanding, and inventive teacher. Like Johanssen, he gave new combinations every class and tailored his corrections to individual bodies. He also learned to come five minutes early and water the floor himself before class. (In later years, a student or underling did the watering—with a garden-type watering can—the purpose being to provide friction, the result being constantly splintering wood planks.)
From Petipa, Legat learned about choreographing—but only for women. Apparently Petipa's movement imagination did not extend to men. But Johanssen's did. So Legat learned from him, although he felt Johanssen's forte was in teaching rather than creating ballets.
Although Legat was sometimes open to new styles—for instance, he inserted a tap dance into Fairy Doll in 1903—he opposed the reforms of Fokine. While Fokine pushed for the story of a ballet to be danced rather than indicated through mime, Legat loved passing down Petipa's pantomime passages to his students. These differences led to open conflicts between Legat and Fokine.
So many of the great Russian dancers—Pavlova, Karsavina, Massine—trusted Legat that Diaghilev hired him as ballet master for the Ballets Russes in 1925. But conflicts ensued, so Legat left to teach in Paris and then re-settled in London.
As Robert Greskovic writes in the introduction, Legat's contribution as a teacher outweighed his output as a choreographer. None of his ballets since Fairy Doll in 1903, which he co-choreographed with his younger brother, has endured. In any case, this book is essential reading for anyone interested in Russian-style ballet training.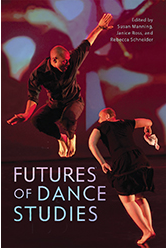 Futures of Dance Studies
Edited by Susan Manning, Janice Ross, and Rebecca Schneider
The University of Wisconsin Press
This book comprises 28 essays on a wide variety of subjects. It puts its faith in younger dance scholars to sustain the field of dance studies. The articles are divided into sub-sections: Archives, Desires, Sites, Politics, Economics, Virtuosities, and Circulations. I will summarize only two essays: the first, by Joanna Dee Das, in the Archives section; and the second, by Clare Croft, under Desires.
In "Dancing Dahomey at the World's Fair: Revising the Archive of African Dance," Joanna Dee Das makes the case that the exposition of the Dahomey Village (Dahomey is now the Republic of Benin) in the 1893 Chicago World's Fair spurred the later popularity of African dance in the U. S. The early Vaudeville team of George Walker and Bert Williams, also performing at the fair, watched the West African dancers and borrowed from them when they created In Dahomey, the 1902 hit that turned the Cakewalk into a national craze. It was also the inspiration for a Dahomean number in Ziegfeld's groundbreaking 1927 musical Showboat. Bert Williams, the soulful blackface performer, was an inspiration to the first superstar tapper, Bill "Bojangles" Robinson.
The World's Fair was steeped in white supremacy, so it's not surprising that journalists called the Dahomean dancers "savage," describing them as both lazy and aggressive, "grinning" while swinging weapons. Dee Das looks to the 1930s films of Melville Herskovits for a more accurate version of the Dahomeans' dances. She identifies a long-held duality: "The tension between black performance as object of an oppressive white gaze and black performance as a means of liberation."
In "Lesbian Echoes in Activism and Writing: Jill Johnston's Interventions," Clare Croft applies a scholarly lens to Johnston's wild ride as a dance critic turned lesbian chronicler. Johnston, who died in 2010, actually anticipated the ground-breaking Judson Dance Theater with her own explosive, raunchy, scarily insightful, convention-shattering prose. As Croft writes, "Johnson celebrates messiness, collision, and the dissolving of boundaries," qualities that later apply to her writing as a lesbian feminist activist as well.
Croft quotes a magnificently prescient gender-diverse, Gertrude Stein–inflected statement by Johnston at the end of a review of a 1968 Lotte Goslar performance: "A queen is a queen is a boy is girl is a ballerina is a boy is a dyke is a fag is a butch is a boy is a girl is just a kinky son of a gun like the rest of us. Hello all you sexes. We're too good to be true."
After describing Johnston's notorious public behavior (including a make-out session captured in the Pennebaker film Town Bloody Hall), Croft concludes the essay with gratitude: "She is here in our history to remind us again and again that there many ways to be a woman. To be a lesbian is to be a woman, with a body, with a mind—loud, brash, funny, and full of desire spilling forth."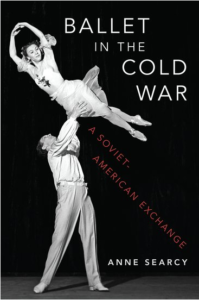 Ballet in the Cold War: A Soviet-American Exchange
By Anne Searcy
Oxford University Press
In 1959, the Bolshoi dancers burst onto the stage of the old Metropolitan Opera House, stoking excitement with their heroic leaps and hurling partnering. When they returned in September of 1962, they had two assets that promised to outdo their first triumph: the fierce ballerina Maya Plisetskaya and a new heroic Spartacus. Plisetskaya dazzled with every step, but Leonid Yacobson's Spartacus—which expressed the Soviet Union's revolutionary politics in grand manner, one-handed lifts and all—fell flat. Even worse, it was ridiculed. Critics compared it to kitschy Hollywood epics of the 1920s. It was called tasteless by New York critics, a charge that fit America's disdain for Soviet "backwardness" while also marveling at the dancers' virtuosity.
I was among the many American teenagers chosen to be supers in the production. In fact, author Anne Searcy quotes my blog entry My Spartacus as one of the people saying the ballet "did not cater to good taste." It was only later, looking back, guessing why the eight scheduled performances were suddenly cut down to less, that I came up with that explanation. I adored the Khachaturian music, and being onstage with Plisetskaya, Rhyzhenko, and Vasiliev, was a thrill. Actually, I think the lore and lure of the Bolshoi was untouched by the charge of bad taste. Americans from Sascha Radetsky and Gabe Stone Shayer have studied there, and of course there was David Hallberg's stint as a principle in the Bolshoi Ballet.
OK, enough of my opinion. Searcy recounts the reverse part of the exchange during the Cold War. When American Ballet Theatre went over in 1960, they defied common sense by including Eugene Loring's Billy the Kid and Agnes de Mille's Fall River Legend— both about extremely violent characters (what else makes a ballet American?). These ballets, which violated the alleged idealism of the Communist regime, were not well received.
More successful was New York City Ballet's tour to the Soviet Union the following month, October 1962, which coincided with the Cuban Missile crisis. Despite the aesthetic differences, Searcy posits that both the Soviet penchant for symphonic ballets and the Balanchine's neo-classical works embrace the music, and therein lay the common ground. I'm not sure I agree, because the Soviet aesthetic was broader and more literal, and I think they recognized that Balanchine was taking ballet into the future.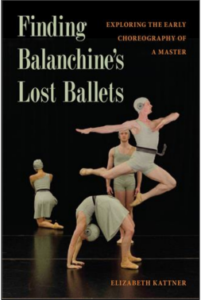 Finding Balanchine's Lost Ballets: Exploring the Early Choreography of a Master
By Elizabeth Kattner
University Press of Florida
In 2018, Elizabeth Kattner, an associate professor at Oakland University in Michigan, dared to reconstruct Balanchine's first group ballet, which he made as a teenager in St. Petersburg. Performed at the Duma Auditorium on the Nevsky Prospect, Funeral March premiered in 1923, the year before Balanchine left the Soviet Union for Europe. At the time he was the head of a group called the Young Ballet.
Influenced by the splendid work that Millicent Hodson and Kenneth Archer have done to reconstruct Nijinsky's Rite of Spring and other Diaghilev-era ballets, Kattner restored (she uses the word "envision" rather than reconstruct) Balanchine's eight-minute Funeral March for Grand Rapids Ballet. She feels that Funeral March foreshadows his later renowned works like Apollo, Prodigal Son and Serenade.
Inhabiting her double identity of dance artist and scholar, Kattner gathered the "remnants," or traces of the work, and put them together like a puzzle. 46 She concludes that much of Balanchine's genius was formed early on, in the cauldron of artistic influences of revolutionary Russia. These influences include sculptor Naom Gabo's cubist ideas (Balanchine intended Funeral March to be seen from all four sides), the constructivist theater director Vsevolod Meyerhold, and experimental choreographer Kasyan Goleizovsky, who placed the action on different-leveled platforms.
An additional influence that we rarely hear about was Fokine's Chopiniana. Balanchine loved the Chopin so much that he would imitate the different roles, so it's no surprise that he chose the Polish composer's music for this work.
Although Funeral March is the only ballet Kattner reconstructed, her Appendix lists nine other Balanchine ballets from 1920 to 1924 for which she supplies verbal "remnants."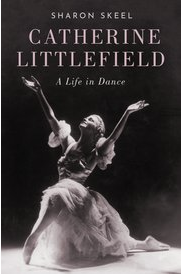 Catherine Littlefield: A Life in Dance
By Sharon Skeel
Oxford University Press
Before New York City Ballet, before American Ballet Theatre, there was the Catherine Littlefield Ballet Company, later the Philadelphia Ballet. Though it only lasted from 1934 to 1942, it produced the first full-scale Sleeping Beauty in the United States; toured Europe in 1937; and became resident company of the Chicago Civic Opera. Littlefield's students joined the early groups of both George Balanchine and Mikhail Mordkin, whose company morphed into ABT.
Catherine Littlefield (1905–1951) performed in local musicals, in her own ballets, and in the Ziegfeld Follies, working with choreographers Ned Wayburn and Michel Fokine. (Sounds like Fokine make an Isadora Duncan–type piece with flowing tunics for the Ziegfeld girls.) She studied ballet seriously with Luigi Albertieri, a protégé of Cecchetti. She was friends with Zelda Fitzgerald, supplied numbers for TV shows, and she choreographed Sonja Henie's ice-skating routines.
Catherine and her sister Dorothie Littlefield met Balanchine at the studio of Lubov Egorova and Olga Preobrajenska in Paris. Both sisters continued a friendship with Balanchine and sent their students to study with him to help him start his company. Among them were Todd Bolender, who later took over Kansas City Ballet, and Barbara Weisberger, who started Pennsylvania Ballet. Another Littlefield dancer, Holly Howard, was considered by some to be Balanchine's first American muse.
This extensively researched book fills in the knowledge gap about America's first independent ballet company (i.e. not affiliated with an opera house), which helped lay the groundwork for ballet to flourish in this country.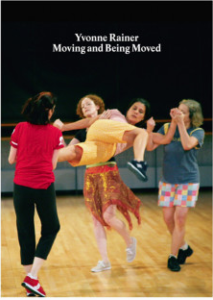 Moving and Being Moved
By Yvonne Rainer
Roma Publications
The last line of Yvonne Rainer's infamous No manifesto of 1965 is "No to moving or being moved." In "A Manifesto Reconsidered" (2008), she comments on that line with one word: "Unavoidable." Thus, in some way, the essays in this collection issue forth from Rainer's ability to change her mind.
The fluidity of her thinking makes this book stimulating to read. But the book also includes the flip side of that: the constancy of some of her ideas. In "Doing Nothing/Nothin' Doin': Revisiting a Minimal Approach to Performance," she talks about doing nothing as a component in her piece The Concept of Dust or How do you look when there's nothing left to move? (2015): "My unattainable ideal (but aren't all ideals unattainable?) of doing nothing is part of a continuum, an ongoing project in part aimed to upset the applecart of expectations of high energy virtuosic dancing . . . but with a twist: the acknowledgment that everyday movement can only be made intelligible dialectically, in relation to what it is not." To show the "ongoing" aspect, the "revisiting," she includes a photo of her Terrain (1963) in which William Davis and Steve Paxton are standing around, doing nothing except watching someone else.
With Rainer, every seed of an idea spreads out and deepens as she goes. In "What's So Funny? Laughter and Anger in the Time of the Assassins" while acknowledging various responses to a particular joke, she realizes, "One person's funny bone is another's yawn." It's not just laughter she's interested in, but the cause of it: the absurdity of life—and death. The confounding enormity of her brother's lifeless body descending into a hole in the ground makes her wonder, "Does one laugh to sidestep grief? Or do I laugh to circumvent my anger at the frustrating dancing around death that pervades our culture?"
For anyone interested in Judson Dance Theater, a highpoint in "What's So Funny" is her memory of Alex Hay's absurdist Prairie (1963), which he made in response to Charles Ross's trapezoidal structure of metal pipes. Hay took two pillows high up on the pipe and tried to fall asleep up there while an audiotape of his own voice asked if he was comfortable.
Moving and Being Moved also contains contributions from three other writers including the late art critic/curator Douglas Crimp. Crimp's 2012 essay "Pedagogical Vaudevillian" takes an astute look at the sources and issues of Rainer's choreography over the years.
Rainer not only uses language in all her recent dances but seems to have a compulsion to write about the discoveries during the making of each dance. Lucky for us. These writings are companion pieces to Rainer's choreography; if you've seen any of her works, they give you more to chew on.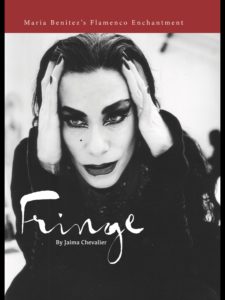 Fringe: Maria Benitez's Flamenco Enchantment
By Jaima Chevalier
Atomic City Lights Publishers
On Amazon
Fierce, charismatic Maria Benitez was a force onstage as well as off.  With her Santa Fe–based company, María Benítez Teatro Flamenco, she toured internationally from the '70s to the '90s. She was so popular in the Southwest that she held 12-week summer seasons at her own cabaret venue for four decades. She also had eight seasons at The Joyce Theater and choreographed for opera. Of Native American and Puerto Rican heritage, Benitez is one of the few Americans who, after studying in Spain, became a great Flamenco dancer. The Institute for Spanish Arts, which she formed with her husband Cecilio in 1970, kept Hispanic arts alive in Santa Fe for almost five decades.
Fringe is a loving tribute by a lifelong admirer, Jaima Chevalier, written in flowery language that one might call rambling cosmic conjecture. (I wish this book had an index and footnotes to ground the scholarship.) However one learns some basic points, for example that flamenco, like jazz, emerged from a persecuted people and includes improvisation riffing off of a theme.
This lavishly produced book showcases a variety of photographers' pictures of the great dancer. Ruven Afanador shows Benitez's drama, glamor, and cheekbones. Beverly Gile focuses her face while she's performing. Winter Prather shot from the bottom up, emphasizing her statuesque quality. Jack Mitchell, the famed Dance Magazine and celebrity photographer, showed the fierce pride in her arched back. Brian Fishbine caught her in candid moments with musicians and some of the many young dancers who called her Flamenco Madre.
Reissues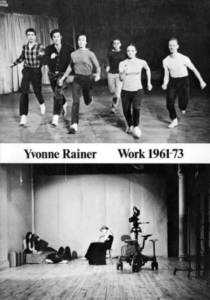 Yvonne Rainer: Work 1961–1973
Primary Information
Rainer's writing about the process of making dances has always been galvanizing. I enjoy her conceptual clarity, articulation of ambivalence, and eagerness to experiment. Challenge and defiance are her natural state. The title reminds me that choreographing is not something romantic but is mostly work. Rainer's witty, blunt prose embraces complexity in a way I find exhilarating. At this point, Work 196-–1973 is kind of a post-modern bible.
Conversations with Meredith Monk
New, expanded edition
By Bonnie Marranca
PAJ Publications
Order at Amazon
These interviews reveal the depth and delight of Monk's boundary-crossing work. "The essence of my philosophy," says Monk, "is the integration and weaving together of many perceptual forms." And yet we experience Monk's performances as more than simply an integration of forms. It's also a dig down into the unconscious, into dreams and histories. A place where, as Monk says, comedy and tragedy are not opposites, but qualities that infiltrate each other.
Monk says she's interested in "cycles of time." Case in point: When she talks about the sick child in Quarry, which is set in World War II, she says, "Her illness becomes a metaphor for the world descending into darkness." This suddenly seems so apt, with Covid plunging us all into a kind of darkness.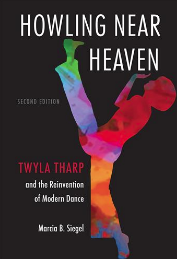 Howling Near Heaven: Twyla Tharp and the Reinvention of Modern Dance
By Marcia B. Siegel
University Press of Florida
From one of our best dance critics comes this 2006 work, detailing Tharp's dances from her early rehearsals in the basement of Judson Memorial Church to full seasons on Broadway. Along the way are her landmark ballets for the Joffrey Ballet, American Ballet Theatre, and the movie Hair. The title, Howling Near Heaven, hints at the joining of opposites that Tharp was so good at: the primal and the divine co-exist in her best work. Siegel takes us through Tharp's hunger to experiment, the staggering range of her output, and her goals for each project. She describes some of the dancers' experiences and the potential obstacles to completing each work. Tharp's intelligence sparkles on every page, Siegel's in-depth treatment of one of America's greatest choreographers is invigorating to read.
Other Books
ChoreoGraphics: Six Studies
Photographs and Interviews by Judith Stuart Boroson
Available at Judith Stuart Photography and Outskirts Press
This slim paperback contains interviews with six current choreographers, each talking about a particular work that has been photographed by Judith Stuart Boroson. Alexandra Beller, wanting to leave the familiar postmodern vocabulary behind, watches her toddlers for clues to something more connected to purpose. Janis Brenner works with people in war-torn Sarajevo to mine their family heritage. In her intense Memoirs of a…Unicorn, Marjani Forté-Saunders attempts to connect the vulnerability of Black men to her own body: "I'm wanting to feel a kind of delirium so that the inside eventually comes out." Colleen Thomas is engaged in process, how she begins and begins again, opening up to new ideas. Nathan Trice has been working a malleable duet form that uses his method of "hand-body listening." And Jawole Willa Jo Zollar, along with Samantha Speis, created Walking with 'Trane to honor the traditions of exploratory improvisation in jazz music.
Transmissions
By Nick Mauss
Dancing Foxes Press
This is a lavish catalog for a 2018 exhibit at the Whitney Museum that celebrated the intersection of ballet, fashion, and art from the 1930s through the '50s. With its photographs, flyers and other artifacts, the catalog sets forth a pre-queer, pre-camp sensibility. Painter Paul Cadmus, an associate of Lincoln Kirstein, is one of the central figures as a pre-Stonewall queer artist. The book contains artifacts reflecting work from Bakst and Goncharova to Man Ray, Elie Nadelman, Cadmus, and Pavel Tchelitchew, and glimpses of Ruth Page, Sono Osato, Alicia Markova, and Jacques d'Amboise. Photography was just coming into its own at this time. The homoerotic photos of George Platt Lynes, who was hired by Kirstein to photograph Balanchine's dancers, seem to foreshadow Mapplethorpe's sensibility. Carl Van Vechten's photographic portraits, in their lush beauty with floral backgrounds, include a 1938 diptych of Al Bledger of the American Negro Ballet—one of Van Vechten's portraits that were sometimes accused of "white naiveté."
Corporeal Politics: Dancing East Asia
Edited by Katherine Mezur and Emily Wilcox
University of Michigan Press
One of a new spate of books featuring Asian dance scholarship, this anthology contains 16 chapters by different Asian and American dance scholars. Some of the essays focus on historical figures like Michio Ito, Dai Ailian, or Mei Lanfang. Others have great titles like "The Conflicted Monk" and "Cracking History's Codes in Crocodile Time." Half the contributors hail from universities in the U.S., the other half from Taiwan, China, Japan, Korea, and Germany.
Moving Bodies, Navigating Conflict: Practicing Bharata Natyam in Colombo, Sri Lanka
By Ahalya Satkunaratnam
Wesleyan University Press
Sri Lanka, called a "hybrid island," is a mix of religions, races, and languages. The author examines classical Indian dance practice in its capital, Colombo, during the long and violent civil war from 1983 to 2009. Ahalya Satkunaratnam, a dancer herself, traces how women dancers navigate the traumatic conditions of war, including performing bharata natyam on a TV competition show, and ultimately work toward peace.
The Oxford Handbook of Improvisation in Dance
Edited by Vida L. Midgelow
Oxford University Press
With 43 entries by a wide range of improvisers and scholars including Ann Cooper Albright, Kent De Spain, Thomas DeFrantz, Janice Ross, Stephanie Skura, and Sheron Wray.
A Guru's Journey: Pandit Chitresh Das and Indian Classical Dance in Diaspora
By Sarah Morelli
University of Illinois Press
This comprehensive look at the life of Chitresh Das (1944–2015), possibly the most accomplished Kathak dancer in the U. S., is a testament to his influence. He set up schools across the Bay Area and his followers are legion. The book also gives a welcome history of Indian dance in American since the 1880s, when Nautch dancers were deemed less than satisfactory and were replaced by white dancers willing to show more skin — skin that was bronzed in an attempt to look the part.
Lastly, my own book:
The Grand Union: Accidental Anarchists of Downtown Dance, 1970–1976
By Wendy Perron
Wesleyan University Press
You probably know by now that I wouldn't write a book unless I absolutely loved the subject matter. So, just the facts: This leaderless improvisation group, which has been called a "miracle" and "collective genius," included Yvonne Rainer, Steve Paxton, Trisha Brown, Barbara Dilley, Douglas Dunn, David Gordon, Nancy Lewis, Lincoln Scott and Becky Arnold. Watching them in the 1970s, and again recently via videotape, I marveled at how they retained their vivid, eccentric selves while meshing with the group—or refusing to mesh. I tried to reflect that mercurial reality—or as Dilley has said, surreal quality—while also giving a sense of the environment that made it possible: SoHo, a fledgling artists' colony. Many readers (and viewers of my public zooming events) have been able to share my pleasure in Grand Union. And now that we are each reinventing ourselves in the pandemic, this radical concept of complete improvisation within a collective takes on new meaning.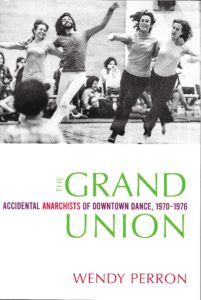 Featured
Uncategorized
5