MY BOOKS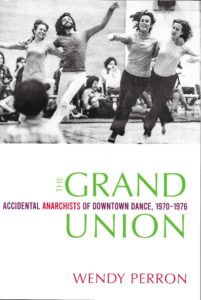 The Grand Union was a small collective of improvisors who broke every rule of performance. I saw them in the 1970s and never forgot their remarkable synergy. Decades later, I expanded that memory in prose and research. The result, The Grand Union: Accidental Anarchists of Downtown Dance, 1970–1976, was published by Wesleyan University Press in September, 2020. The group, which included Trisha Brown, Barbara Dilley, Douglas Dunn, David Gordon, Nancy Lewis, Steve Paxton, Yvonne Rainer, Becky Arnold and Lincoln Scott, came a few years after Judson Dance Theater and helped jumpstart the artistic careers of those dance artists.
I've spoken via Zoom about the book and shown Grand Union archival videos at four online events;
• Skirball TV with Douglas Dunn
• Conversation Without Walls at Danspace with Yvonne Rainer and Barbara Dilley
• Paula Cooper Gallery and 192 Books presented
Jared Bark, Barbara Dilley, and me
• "David Vaughan's The Dance Historian Is In," Jerome Robbins Dance Division, NY Public Library for the Performing Arts, in January 2021 (no online link)
Also the book has gotten six warm and scintillating reviews:
Aileen Dowling in The Brooklyn Rail, Elizabeth Zimmer in Artsmeme, Marcia B. Siegel in The Arts Fuse, Gia Kourlas in The New York Times, Leslie Bush in thinkingdance.net, and JoAnna Mendl Shaw in Journal of Dance Education (link for members only).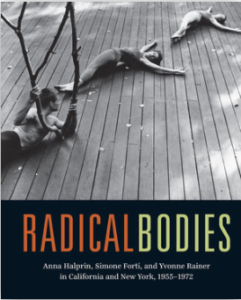 In 2016, I co-wrote and co-edited Radical Bodies: Anna Halprin, Simone Forti, and Yvonne Rainer in California and New York, 1955–1972. This was based on an exhibit of the same title that I co-curated in 2016–2017. I especially enjoyed writing an essay on Forti as a bridge between Halprin on the West Coast and Robert Dunn and Judson Dance Theater in New York City.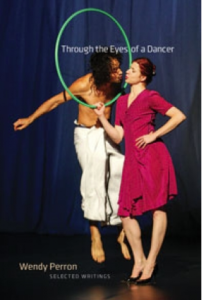 My first book, Through the Eyes of a Dancer, comprises reviews, interviews, essays, profiles, memoirs, and blog posts from the 70s until 2013. I wrote little intros to each piece from the deep past, connecting that time to this time, and giving a sense of my state of mind when I wrote it.
Press Quotes for Through the Eyes of a Dancer
"It is a bran tub full of goodies into which to dip…She writes fluently, intelligently and with insight…expressing her opinions on a wide range of subjects with refreshing clarity and asperity in an elegant style. Although I was initially dubious, I found this was a book I couldn't put down, and read it at a single sitting."
—Mike Dixon, Dance Europe, January 2014
"Her critical responses are both raw and elegant, betraying the influence of her heroine Susan Sontag, who believed in lingering over the 'sensuous surface' of art."
—Kathleen Riley, Times Literary Supplement, 1/10/14
"Perron's writing describes a dancer's life with passion and a performance's details as if it were a living, breathing organism. Perron's love for the art is evident…. And while Perron says this book offers only 'a few slices' of what she has seen and done, each piece is emotional, moving, beautiful and articulate."
—Tara Creel, Deseret News, 11/30/13
"Like good dance, Perron's accounts, insights, and questions resonate in the aftermath. What a gift that she wove her paths together so seamlessly, and that we have this provocative collection of musings." —Carolyn Merritt, Dance Chronicle, Summer 2014
"Perron's reviews describe the actions of performances so completely you will feel that you are witnessing them first-hand."
—Publishers Weekly, 9/09/13
"As an experienced dancer and choreographer, Perron writes with authority on the philosophy and social constructs that ushered in the postmodern era. Perron offers insight into the greatest talents of our time: Katherine Dunham, Lucinda Childs, Mikhail Baryshnikov, Sara Rudner, Sankai Juku, Wendy Whelan, Twyla Tharp, Ohad Naharin, Julio Bocca, Crystal Pite, Anne Teresa de Keersmaeker and many more."
—Kathy Adams, Salt Lake Tribune, 11/30/13
"Equal parts memoir, op-ed and critique, Through the Eyes of a Dancer is a fascinating read for those interested in dance and journalism."
—Jenny Dalzell, Dance Magazine blog, 11/13/13
"Wendy Perron has led a distinguished life as a writer, editor, choreographer and dancer, which included dancing with the seminal post-modern choreographer Trisha Brown. Now, she can add author to that list, with the publication of her collection of writings, Through the Eyes of a Dancer.
—Nancy Wozny, Arts+Culture Texas, 11/25/13
READINGS
I like to combine book readings/signings with discussions. Here are comments from social media on my readings:
"I had the opportunity to hear Wendy Perron read excerpts from her new book last night. She was articulate, insightful and moved the audience to tears."
—Michael Bearden, director of Ballet Arkansas, after my reading in Salt Lake City
"Just back from a reading by the divine Wendy Perron of her stellar new book, Through the Eyes of a Dancer, a fascinating, opinionated walk through five decades of change and innovation in the dance world. Eye opening and thought provoking."
—Andrew Edmonson, press dept, Houston Ballet
"In this PillowTalk, she speaks more or less the way she writes: insightful, knowledgeable, unpretentious, playful and curious, and with an authoritative voice."